Rei Kawakubo: clothes from the past that never happened
by
eden
;03142009;0240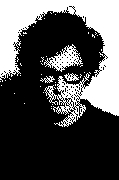 It sounds like a radio- my battered ipod nano plugged into one of those cheap ipod speaker systems- playing PJ Harvey's "Rid Of Me". Not so much playing as banging it out- it's like sort of audio equipment workmen have on a building site. Cheap radio with paint splattered all over it (not unlike my jeans today- I could be in a grunge band!). Rei Kawakubo's Comme des Garcons collection festers inside of me like PJ Harvey's scattered lyrics. Exactly what's festering inside there is anybody's guess. It can't be packaged into a nice collection of words. Fuck- it's not even an
intellectual
collection. Rei Kawakubo isn't some…Stephen Hawking figure. She relies of emotions. On ripping out our guts and then
charging
us money for the privilege.
Man, Rei Kawakubo doesn't even
design
half these things. Nobody knows what goes on at the Comme des Garcons building- the stories change every time you hear it. You go into a bar. And the man in a Pork Pie hat (let's say Mingus is playing) says something to you- gives you in-for-ma-tion regarding the Comme des Garcons process. It doesn't matter what- could be that pigs fly into the offices and deposit ideas sketched out on napkins from KFC which assistants then memorize as the napkins self destruct. Make up your own! I've never heard one where Rei actually designs the clothes that're on the runway, though. As far as I'm concerned it doesn't matter anyway- the pigs flying thing might as well be true (nobody's worked out the purpose of these flying pigs, so this might as well be it!)
Anyway I don't know what PJ Harvey "means", specifically. I mean, I know she's ranting and crying and fucking and yelling about some ex of hers. There's no specifics, lyrically. I don't know whether Jack the Ripper Gets a New Wig, or I Kissed a Girl and I liked it. It's just this metal-machine-rusting feeling. I don't know what Rei Kawakubo "means", if she "means" anything at all. Maybe she just wants to sell t-shirts with love hearts on them.
There's been a lot of whining about the PLAY line, which sells the t-shirts with love hearts. It's a terrible, tacky, tourist-trap of a line. I have no idea who buys them- every now and again I see somebody on the street wearing one. Every time I'm tempted to go up them and tap them on the shoulder and say "hey, why did you just spend an obscene amount of money on a t-shirt with a heart on it?"
Of course I don't ask them and they look like they're Very Busy People anyway. The main point is that this tourist trap makes a lot of money, and apparently that money goes into the show that was about a week ago.
I still don't know what to say about this show, maybe I'm biding for time. There's no analytics that can go into it. It just evoked a kind of dusty feeling for me. These big green jackets, they look a bit dusty. The veils with kisses sparkled onto them in sequins remind me of none other than a very early 70's Karl Lagerfeld collection which had hats with veils going on the cheeks. He called them "little slaps".
You know, there was a bunch of transparent wankerey going on too. All these transparent…things. Cocoons that've come undone and unwound to resemble coat-like-things. Clothing for Edwardian aliens. They're all very blanket like, I think. The flesh-like transparency and the canvas-like greens make me want to curl up in all that multi-thousand dollar anti-glitz. (Oh-there's patterns too. I suppose people will buy them.)
It's a sort of
electricity
that's been cloaked and smothered in a million different layers so that the actual
power
is muted. It's the same effect that Sad Eyed Lady of The Lowlands has on me. Bob Dylan's tired, trampled, cigarette-stained voice with acid hiding somewhere in it. A backing band that doesn't know
when
he's gonna stop. There's a deep sort of power underneath it all, but it isn't 'Let's do it In the Road".
I don't think anybody knows when a Comme des Garcons collection's going to stop either- the show seems to go and go and go. There's only (
only
, I mutter to myself) 48 looks according to style dot com, but there's no hints as to when the final look will come. The progression probably isn't as scattered as it appears- but there's not sign flashing stop.
When this shebang did end I couldn't say anything. I couldn't say anything for
days
, because it was still festering. It'll keep festering until I die or forget about it- there'll always be some part of it stowing itself away like a piece of food set to rot and mold. This is only what I think of it
now
. Maybe tomorrow I'll hate the whole thing- I don't know if I like it today anyway. I don't like it like I like a Yohji Yamamoto show. It's just
there
, and it'll still be there in 50 years. I felt it. It felt
me
and that's more than I can say about the majority of fashion.