Ma and Pa at Balenciaga (a review of the spring/summer 2009 Balenciaga show)
by
eden
;10162008;0111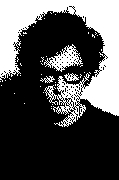 I'm walkin' in a haze of mystic clothes and prints that speak rather that say. Once upon a time fashion was full of elegant ladies, not the juicers and fakes that fill the ranks of the designated seats now. Anna Wintour, the bastion of conservative fashion, sits in her chair cat-like; her eyes which we'll imagine to be green- staring out of her dark sunglasses- which double as actual glasses. She's poised in fashion but as Andy Warhol said she has "no taste". Or rather, she has taste but it's the taste of upper-middle-class America. Where and who she sells her Vogues to.
Balenciga's been on and the critics are calling it a triumph. They're always going to call it a triumph because most of them don't have fucking balls anyway and they're too scared to offend this oracle of fashion. There's very few observers at any of these shows that actually has an opinion. A couple do; the wonderful ladies who write for the New York Times and International Herald Tribune. Suzy Menkes and Cathy Horyn. Do other people?
Fuck yeah
. But they're probably not writing a review.
I bet half the people who said "Oh I love Balenciaga" did not really love that show: the spring/summer 2009 show. They just said it because well,
that's what a fashionista says
.
I did not like the show the first time I saw it. I liked one jacket.
That jacket's now been spread all over the screens of the fashion-conscious of the world; and it'll probably be in magazines soon too.
On my 5th look of the Balenciaga show I have decided I like it. That I genuinely like it; despite the "wrongness" of the colours and shapes- they looked right for Balenciaga, but one wonders how they're going to translate onto the flesh and bodies of Actual Females (who can't afford Balenciaga) It's not a disturbing wrongness either- not like parts of a David Lynch movie or Bob Dylan's 1993-ish concerts where he apparently didn't tell
his own band
what key he was starting in. It's not the wrongness of a Comme des Garcons collection where hands might be affixed to a top to appear to be pinching the wearer. It's a kind of homely here's-a-cup-of-tea wrongness 'cause the wallpaper's a funny colour.
What's wrong is the way the whole shebang assaults you, and rushes you off course to somewhere
else
. The carpet in the Balenciaga show was perfectly representative of this; and in a way the carpet was the show. (Not the collection.) Apart from the carpet had
no redeeming value whatsoever
- it consisted of the blue found of classroom carpets, matched with 80's gold squares on top of it creating an effect not unlike a used carpet shop scraping the barrel of their inventory.
And this somewhere else isn't anything you expect. There's similar elements to previous collections: that space-age-meets-fashion aesthetic, the cut of the clothes (one undeniably good thing was the pants. Man,
everyone's
going to want to get into those pants). But there was this feeling that now the house is changing gears: there wasn't any strong statement. It was just : "here's something nice I cooked up, and oh, here's another one! And here's another one.."
There was no message*. It was A Few Good Pieces, and at least that's better than a "few copied pieces" like certain designers who need not be named do.
(It's a hella lot better.)
Where the show takes you is "A Spaceage Home belonging to Ma and Pa". Yeah. The clothes aren't too sexy- and the shoes look vacuum cleaners that Ma cleans the house with. It ain't the Jetsons nor "Sex in the Galaxy". It's the 50's for those who were growing up in the 60's. Not that it's retro, because these clothes are in the future…the future that's somehow already been.
It's space in the time of the diner, and the clothes are a collection of vintage pieces that don't exist from dispersant wardrobes.
*I should mention that the show had different coloured lights changing the colour of the clothes. In fact, the collection was allegedly about "playing with light". The show did, the clothes really want to but don't. They're essentially the grown man that wants to be Britney Spears, apart from the clothes look good.