An American in Paris (a review of the Marc Jacobs Spring/Summer 09 show)
by
eden
;09092008;0242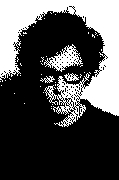 It's impressionism. American impressionism. An American in Paris- Marc Jacobs.
Even though "Rhapsody in Blue" played during the show–quintessentially American–it's not the actual music to "Rhapsody in Blue" that matters here. It's the fact that with "Rhapsody in Blue" Gershwin tried to fuse "Classical" music with Jazz. Here, Marc Jacobs is trying to fuse America with Paris.
There are people out there who'll say "nah man, this ain't got any Paris in it at all". It's not so much the colours and patterns and fabrics- it's the cut. The silhouette.
In "The Big Picture" of things, this whole show with its mirrors lining the runway (immediately brings to mind warm-lit images of Chanel's mirrored staircase), with its models walking out in some kind of coherent form–it's more a Tone Poem than a Symphony. Where Karl Lagerfeld is fashion's Bach–yes, I did just compare Karl to Bach–Marc Jacobs is more fashion's Debussy on a bender. No, Debussy stark raving drunk whilst taking LSD and more experimental chemicals. Debussy with plenty of funding from patrons- LVMH. Debussy the rock star living in hotel rooms.
…In the Big Picture of things, this collection is damn good simply because it's a nuclear bomb to the petty collections that have been churned out at NY fashion week so far. It's the streaker. The damn hot streaker. And among a crowd of bare-boned, anaemic collections, it's gorgeous. It cannot be anything else than gorgeous because it's so delicately obnoxious; it ain't boring. It's essentially Edie Sedgwick–except it isn't dead yet and there are some pieces here that'll lurk in the wardrobes of those that dare to buy pieces from this collection (how many people with money and good taste?) for a long time. Maybe they won't wear the piece for the longest time, but they won't be able to throw it out. It'll cling to them because, on some level, they believe that it's going to be an important piece. Really, it just has that look.
Parts of it feel like Broadway Porn. Here's the obvious nod to Yves Saint Laurent–the hats, straight off Broadway. Americana as interpreted by a Parisian (Yves Saint Laurent) and then quoted by a American living in Paris. It's all American though–he clashes the hats with shoes, pumps, stripper heels out of a seedy bar. The exaggerated bondage through the crisscrossing on the legs of the models.
–The models you don't really notice. Last season I said they were models out to murder someone. I suppose they've done the deed now, and they're sort of being meek and unnoticeable. Maybe they were once showmen–maybe they were once superstars themselves. But you'd never know it.
Is the time of the model over? When I see the set–the mirrors, the warm lighting, the wooden floorboards–I feel like I'm viewing a collection in one of the saloons: a small showing by Chanel; Yves Saint Laurent; Monsieur Dior. I feel like it's really the clothes that matter. It's this attempt to create intimacy in a frenzied, party-like atmosphere. A brilliant juxtaposition. An attempt to reinvent what modern fashion is, in essence.
It's a step along the way. It's possibly the first 21st-century fashion show. Or a throwback to a Couture saloon showing. It's both. It's mostly Debussy on a bender whilst listening to "Highway 61 Revisited", smoking a cigarette, and holding Yves Saint Laurent and Coco Chanel in high regard.
Not the collection of an outsider–it's the collection of an American designer. An American in Paris.